IPad on a Golf Utility Vehicle
If you have spend any time with a Golf Course Superintendent, you'll know we are an ingenious lot. Many of us like to attach things, or augment our utility vehicles in some way.
So, If your like me you have been racking your brain on how to affix your iPad to your trusty utility vehicle. Well, a fellow superintendent Has done just that. Have a look at Frank Tichenor's solution. Frank is a Certified Golf Course Superintendent at the Forrest Hill Field Club in New Jersey.
As you will see in the next few pictures, Frank has attached an iPad 1 Otterbox Defender Series case to the dash of his cart.
First a piece of metal was attached to the dash. Then he screwed the protective cover from the Otterbox to said piece of metal. The screws are hidden in one of the pictures under the iPad stand. Now you just have to insert the iPad as you would if the cover was not screwed down.
Frank says the iPad remains securely in the Otterbox cover while he drives around the course. Ever over rough terrain.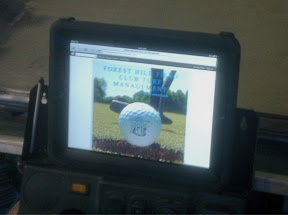 Well done Frank, thanks for the pictures. I may have a new project ahead of me.
– Posted from my iPad