Ditch Your Mouse to Become More Productive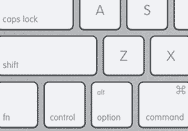 I was working with my wife the other night, working on rebuilding her website.  I was in true form that night, between programs, websites, pictures, email and twitter, I had over 12 windows open.  She kept asking me "How do you even know what window is what?"  Over my years, learning to truly multitask on the computer, I have become the king of keyboard shortcuts.  Rarely do I use the mouse to navigate between apps or windows, copying and pasting, etc strictly utilize the keyboard.  Hands down, it is faster and more efficient!
Many of you probably know the standard Cmd – C  and Cmd – V for copy and paste, but the keyboards ability can go far beyond that, especially utilizing Apples OS.  On the newer MacBook Pros or if you have Apple's Magic Trackpad you can utilize the multitouch gestures as well.  These do not take the place of keyboard shortcuts, but certainly save time navigating with a mouse.  I found a great article from MacWorld that discusses some of the standard keyboard shortcuts as well as how you can customize your own.